Providing free and confidential tax education and information to unrepresented taxpayers.
The ANU Tax Clinic assists unrepresented taxpayers in understanding their tax affairs and meeting their tax obligations. The friendly, student-led clinic provides clients with information and guidance under the supervision of experienced tax practitioners. 
Information is provided on a wide range of both simple and complex tax matters, including:
how to apply for a Tax File Number
using MyGov
lodging tax returns
residency
tax debt repayments
deductions
concessions and exemptions
CGT.
Appointments are available via phone, videoconferencing, or in person (as COVID-19 restrictions allow).
All assistance provided by the ANU Tax Clinic is FREE and CONFIDENTIAL.
Bookings are essential. Book your appointment using the form below, or call
(+61) 02 6125 4853.
Eligibility Criteria
Access to the ANU Tax Clinic will be reserved for people who meet all the following eligibility criteria:
Currently unrepresented (do not have a tax agent)
Are an individual (including sole trader or self-employed)
Any information we obtain of a personal nature (for example your name and contact details) will be dealt with in accordance with the Privacy Act 1988 (Cth) and ANU Privacy Policy.
---
Tax Clinic Resources
This information is current as of October 2021.
These presentations contain general information only and in no way constitute financial or legal advice.  They may not be relevant to your particular circumstances, and you should seek independent advice from a tax professional to discuss your own requirements.
Image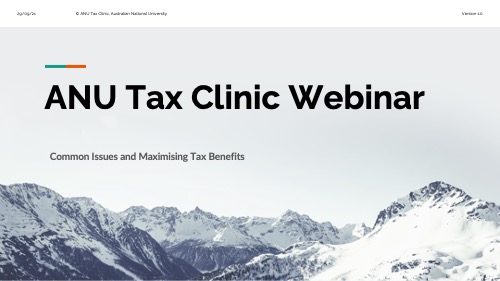 Image
Image
Image
Image
Image
Image
Image
Image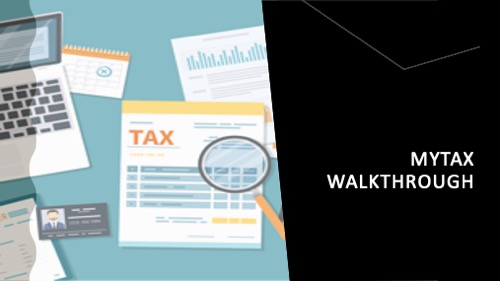 Image
Image
Image
Image
Supporters
 

         

ANU Tax Clinic 2020 closes on a high: helps the community in a harrowing year and reaches out to regions
During 2020, our tax clinic interns helped more than 100 clients from diverse backgrounds.  Interns assisted with issues ranging from simple tax file numbers and MyGov queries, through to complex residency and cryptocurrency issues. The student interns greatly appreciated and enjoyed the opportunity to help the community.
The ANU Tax Clinic is absolutely an amazing program. By providing tax guidance and education services for unrepresented taxpayers, I feel that I'm making a difference to a whole proportion of society. It also provides me with a good opportunity to be exposed to real-life conditions, which helps me develop my professional and interpersonal skills and improve my employability for my future career. Student Intern, ANU Tax Clinic
The Clinic has particularly focused on assisting people living in the regions surrounding Canberra including Yass, Goulburn, Queanbeyan, Snowy Mountains, and the South Coast from Jervis Bay down to Eden. In 2021, we will be expanding further west of Canberra to regional towns.
These areas have been affected by drought, bushfire, flood, COVID-19 and the inevitable decline in tourism.  The effect on many people's tax positions has been dramatic.
"Reaching regional based clients was possible with the Clinic operating exclusively by phone and video-conferencing to comply with COVID-19 social distancing guidelines.  This type of access makes it easier for clients to connect with our free tax service instead of trying to muddle through by themselves," Carolyn Drury, Manager, ANU Tax Clinic.
A few testimonials from our clients:
The Tax Clinic provides a valuable service between trying to navigate the ATO website alone and having to pay for a professional accountant.
The student and tax professional provided me with all information that I was after. Both were very helpful and pleasant to speak to.
The advice was very useful and the process of connecting and participating was easy and user friendly.
These and other client testimonials indicate that the clinic achieved its core mission of community educational empowerment despite the challenges of 2020:
'The ANU Tax Clinic aims to deliver a social benefit by educating individuals about their tax law rights and obligations. We would hope that most of our clients feel confident enough to complete their tax returns by themselves in the next tax season': Dr Sonali Walpola, Academic Lead, ANU Tax Clinic.
Our interns have been assisted by experienced tax professionals who have donated their time and expertise on a pro bono basis.  The ANU Tax Clinic extends its gratitude to the tax professionals for their gracious and knowledgeable mentoring in 2020.
Look out for our ads in local libraries, local digital publications, your local Club and your community groups in 2021.
We expect to be back open helping clients with their tax and debt issues from May 2021. 
We will operate using phone and video-conference, and face-to-face appointments when possible. 
In the meantime, you can access easy-to-understand presentations, covering the most common tax issues, here on our web page.
 
---