Honours is an elite and challenging program for top students from the ANU or other universities. It requires a fourth year of additional study after the three-year Bachelor Degree (or combined degree equivalent), and can be taken either as Honours in Commerce (HCOMM) or Honours in Accounting (HACCT). The honours program may be undertaken full-time or part-time, and we welcome high-achieving students from other universities to apply for their honours year with the RSA.
Generally, the honours program includes a coursework component (4 courses to the value of 24 units) that are undertaken in first semester. The remainder of the honours program (24 units) consists of research which leads to the writing of a thesis under the supervision of one of our academic staff members.
Accounting Seminar: For undergraduate students
The seminar program is for accounting and commerce students who have demonstrated academic excellence and who enjoy intellectual exchange.
The program is designed to stimulate and challenge participants, and aims to enhance their knowledge and analytical skills. It offers students the opportunity to engage with their peers and senior academics to discuss important contemporary issues in accounting in a supporting environment.
For more information contact the RSA Honours convenor:
---
Information and Resources Honours
Image
Why do Honours at RSA (PDF, 383KB)
---
Benefits of doing an Honours Year
This link will direct you to the College of Business and Economics Honours webpage
---
Image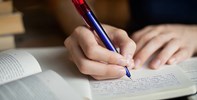 Honours Scholarships in the College of Business and Economics
This link will direct you to the College of Business and Economics Scholarship webpage
Support for Honours Students
---
The Research School of Accounting provides their honours students with financial support for thesis production costs and textbook acquisition up to a limit of $750, as well as access to computer stations and printing in share room facilities to encourage a communal, cooperative and productive environment for students during the challenging Honours year.
Seminar Series
RSA honours students are encouraged to attend and participate in the weekly seminar series and become active members of the research community within the school.
Casual Tutoring
RSA Honours students may have the opportunity to supplement their income through casual employment as casual tutors in entry-level RSA courses. Also, from time to time, some RSA academics may have research grants and may be looking for research assistants.
Current Students
These are the current Honours students in the RSA and their thesis topic
---
Past Honours Students
| | |
| --- | --- |
| 2023 | Thesis Topic |
| Xinrao Hai | The impact of managers on corporate voluntary disclosure during the Covid-19 pandemic |
| Hagzhi Xiong | Common institutional ownership and volutary financial disclosure |
| Shuwen Hua | Impact of the 2014 amendment on thin capitalisation rules on Australian Multinational Enterprises |
| | |
| --- | --- |
| 2020 | Thesis Topic |
| Jia Chong | Whether stakeholder pressure by NGOs affects modern slavery reporting quality |
| Lingyan Li | The relationship between Key Audit Matters Reported in the Audit Report and Auditor Changes |
| Vernon Mah | The Role of Forward-looking Statements in the Face of Inconsistent Earnings Signals |
| Siya Ma | Determinants and Economic Consequences of Corporate Social Responsibility Disclosure Quality: Evidence from Corporate Reliance on Public Debt |
| Daehyeon Seo | Whether Rule 3211 (disclosing audit engagement partners' names) in United States improves audit quality |
| 2019 | Thesis Topic |
| Xinlan Shi | Audit Risk and the Use of Cautious Wording: Evidence from Key Audit Matters for Goodwill |
| Ruiyin Zhang | The Value-added Role of Acquirer's Due Diligence Advsisors in M&As |
| Fangting Lyu | The Effect of Media Coverage on Managers' Propensity to Abandon Value-increasing Acquisitions |
| Jiaxin Shi | The Effect of Adjusted Performance Metrics Used in CEO Remuneration on Non-GAAP Reporting: Evidence from Australia |
| 2018 | Thesis Topic |
| Ruilin Gao | Under what circumstances does premium paid at acquisition tend to reflect overpayment rather than synergies? Evidence from subsequent goodwill impairment.    |
| Yufei Wu | The impact of enforcement actions on accounting conservatism: Evidence from China    |
| Yangfan Zhang | Do Targets' CSR Disclosures and Performances Impact Acquirers' CSR Disclosures and Performances? |
| Weixiao Steven Wang | Managers' equity-based compensation and verifiability/specificity of management cash flow forecasts    |
| Minghao Zhuge | Board Reforms and Corporate Innovation: Worldwide Evidence |
| Haoyan Chen | Does analysts' recognition of key value driver in an industry affect the profitability of their recommendations? |
| Jik Ting Jeffrey Lee | The Effect of Analyst Coverage on the Corporate Social Responsibility and Firm Value Relation: International Evidence |
|  Jiajing You | Can the Multinational Anti-Avoidance Law (MAAL) Combat Tax Avoidance? Evidence from Australian Entities |
| 2017 |  Thesis Topic |
| Zeliang Colin Fei | Do audit firm mergers affect audit quality?  |
| Hui Sophia Guo | The impact of financial advisors on M&A deal outcomes: evidence from Chinese acquiring firms |
| Yuqi James He | The impact of warranty accruals on analyst forecast? |
| Annisaa Kusuma | Australian Firms' Off-shore Subsidiaries: Exploring the Relationship between Commercial Operationality and Corporate Tax Avoidance |
| Yuan Helen Ping | The geography of tax avoidance  |
| Yuzhen Teresa Wei | Benefits and Costs of the Enhanced Auditor's Report: Early Evidence from Australia  |
| Sonia Cho | The Influence of Corporate Social Responsibility on Word of Mouth, Product Recall Events and Sales Growth: Evidence from Twitter  |
| Dingying Li |   Integrated reporting, Capital Disclosure and Firm  |
| Dongyue Wang  | Competing with superstar  |
| Chen Crystal Li | Corporate carbon disclosure: The impact of mandating greenhouse gas emissions disclosure in the annual report on carbon emission levels and the equity market |
| Fengxiao Crystal Miao | Does the pay-performance sensitivity change when  product market declines: annual cash bonus in the oil and gas companies  |
| 2016 | Thesis Topic |
|  Ka Yiu Kate Fung | The effect of mandating corporate social responsibility contribution |
| Zhuoyi Cherry He | The impact of Corporate Social Responsibility related executive compensation on Corporate Social Performance |
| Leipeng Li | Voluntary risk disclosure and the cost of capital: the case of the adoption of ASX's third edition of the Corporate Governance Principles and Recommendations |
| Wei Grace Li | GHG reporting and assurance |
| Thien Tam Vo | Social media and CSR performance |
| Matthew Bennett | The Intra-Industry Consequences of Corporate Social Performance Disasters |
| 2015 | Thesis Topic |
| Rui Summer Huang | The Impact of Leahy-Smith America Invents Act on Firm's Information Environment |
| Junyoung Jeong  | The Disclosure of non-GAAP Measures in IPO Prospectuses after the Relaxation of SEC Interpretive Guidance: Informative or Opportunistic Misreporting? |
| Wen Jing Yap  | The Impact of Mandatory Partner Rotation on Audit Reporting Lag and Audit Fees: Evidence from Australia |
| Yulan Tessa Zhang  | Australian Multinational Enterprises and International Acquisitions: An Investigation of Tax-Motivated Income Shifting |
| Matthew Bennett | The Intra-Industry Consequences of Corporate Social Performance Disasters |
| Hedda Cui | What Determines the Reputation of Bank CEOs? |
| 2014 |  Thesis Topic |
| Xin Yi Lydia Zhu                       | Financial Reporting Comparability and the Value of Cash Holdings |
| Chien Minh Dang | The impact on audit quality of a mismatch in location between principal auditor engagement office and client business location |
| Chi Chin Leng | Corporate Social Responsibility, Cost of Debt, and Ownership Structure: Evidence from China |
| Yuzhou Hu | Earnings Management in Response to the Australian Mining Tax Reform |
| Ao Li | The Reporting and Use of Key Performance Indicators in the Public Sector |
| Yi Ding | Auditor Industry Specialization and Bank Information Asymmetry |